I need another car like I need a hole in my head. And when I say I, I mean we. And when I say we, I really mean my husband. We currently own six cars and one Harley-Davidson. There are two everyday drivers, an old, square body Chevy truck, a Cadillac that's out of commission, a '29 Ford Woody and a '54 Chevy Belair two door hard top. My husband is a bit of a hot rod fanatic.
So when I learned that Nikki Sixx was selling his '71 Chevelle SS 454 convertible on Ebay, I figured we could just add it to our collection. Our next purchase was supposed to be a '67 GTO (for me), but I can make an exception for Nikki's car.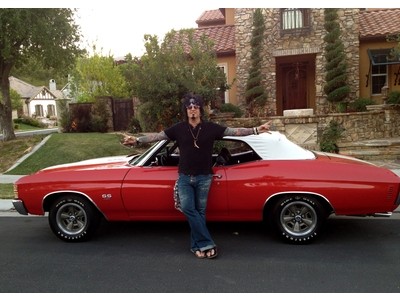 According to the Ebay listing, this was Nikki's every day driver for the past year. It's been totally restored by
Red Hills Rods and Choppers Inc
. and looks amazing. The winning bidder gets a personalized, autographed copy of Nikki's book,
This is Gonna Hurt
. If you've got an extra $75,000 lying around, then this gem can be yours. For that kind of money, I'd want Nikki to hand the keys over to me personally and take me for a spin in it.
Whoever ends up owning this badass car is one lucky SOB. Trust me, if I had the money, the auction would have ended as soon as it went up. What an amazing piece of memorabilia. Not only did this muscle car belong to a rock legend, the car itself is a legend. Check out the full listing
here
. And if anyone would like to buy this for me, I'd be very grateful.