There's nothing more alluring, appealing or more sexually attractive than a rock star. Try as you might, you cannot resist their sexual power. Sure, there are movie stars who are smokin' hot, but it's a different kind of hot. Most movie stars are lovey dovey, sweet romantic hot. Rock stars are dirty bathroom, pull your hair, love you and leave you, 10 seconds to love in the elevator hot. It's that bad boy aura that you just can't resist. Plus, watching a hot guy rock out on stage will make your panties melt right off. It's why so many guys aspire to be a rock star and why so many women aspire to sleep with them.
So I present to you my list of the 10 hottest rock stars. These are the men I would have my way with, let walk all over me and would have supported back in the day. They are in no particular order, well...except for number one, and I'm sure you all know who's at the top of my list.
10. Chris Cornell
- It's those eyes. They're piercing against all that long, black hair. I have to say that I prefer him in the Soundgarden days, but he's just as hot today. His voice is just as much of a turn on as his eyes. Listen to
Jesus Christ Pose
and tell me that it doesn't send chills down your sp
ine.
9. Rob Zombie
- I have no doubts that most of you won't get this one at all. I'm not sure I do either. There's just something about that man does it for me. Maybe it's all those dreads or just the fact that he's so dark and mysterious. I've had a crush on him that hasn't gone away since 9th grade.
8. Joe Perry
- I'm pretty sure that it was
Love in an Elevator
that did it for me. I always wished I was the girl in the elevator that he was making out with him. Those lips, those tossled, curly locks...wow. And watching his nimble fingers work their magic on a guitar kinda makes you wonder what his fingers could do to you. And the fact that he's in one of the greatest rock bands ever doesn't hurt either.
7. Duff Mckagan
- I didn't think it was possib
le for him to be any hotter than he was in the Guns 'N Roses days...but he is. Time has been great to Duff (sobriety probably helped too). Let's face it, watching him play with that bass slung extra low is hot.
6
. Sebastian Bach
- One of the greatest voices of rock with one of the most beautiful faces I have ever seen. Sebastian Bach back in the day was drop dead freaking gorgeous. Over six feet tall with long locks and a voice that'll punch you in the gut...does it get any hotter? He was even more beautiful than most women.
5. Tommy Lee
- None of you can say that you didn't a
t least want to watch the Pamela & Tommy Lee video to see what all the hype was about (and I'm sure some of you did). He is the Greek god of drums and it's no wonder he gets so much ass with the way he pounds on those things. Oh yeah...and he's freaking hot.
4. Robert Plant
- He may be the grandfather of rock star hotness.
He is legendary. His band is legendary. His hotness is legendary.
3. Josh Todd
- He's one of those
guys that if you saw on the street, you might not give him a second glance. But since he's a tattooed rock star, he grabs your attention immediately. Watching him live is mesmerizing. He's all over the stage and likes to wear pants that reveal
almost
everything. You keep hoping that he'll have a wardrobe malfunction and you'll get a catch a glimpse of his goods. But even if you don't, he's real nice to look at.
2. Mike Ness
- The hottest man in punk rock. Period. Hi
s voice is gruff and rough and it's super hot to listen to him sing about hotrods and motorcycles. He is so hot he makes me weak in the knees. Mr. Ness also happens to have my name tattooed on his throat. Awww...isn't he so sweet?
1. Nikki Sixx
- Are you surprised? I don't really think I need to explain myself here. He's
the hottest man alive.


Honorable Mentions

1. James Michael - Leave it to the hottest man on the planet to join forces with another hot guy.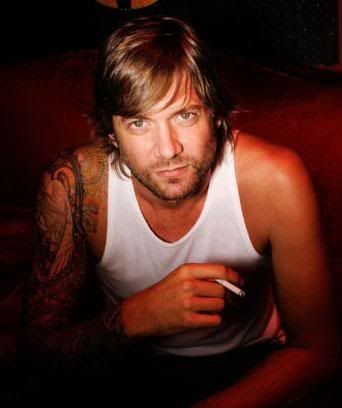 2. Tommy T-Bone Caradonna
- You've probably never heard of him, which is really unfortunate. He played with Lita Ford, Alice Cooper, and White Lion and he's beautiful. Lucky for me, I know him and he lives in my town. These days, Tommy is rockin' out with his band
Razorbliss
. Check them out.
3. Nuno Bettencourt
- One of the greatest guitarists to come out of the 80's/90's. Nuno Bettencourt is exotic and amazing.
4. G. Wyld
- I can't have a list of the hottest rock stars and not include my own, can I? Although he's mine and I don't have to dream about being with him, he's still super hot to me. Check out his kick ass band,
Snowblynd
.