The annual summer party concert of the year arrived yesterday night in Columbus. Normally, Poison rocks out at our local outdoor venue, but this year they stepped it up and moved into a huge ass arena. Was it nescessary? No. The entire top section of the arena was closed because they didn't sell enough seats. Perhaps that had something to do with the $200 -$500 seats Poison was trying to sell. Doesn't look like that went over too well. I digress...
Sebastian Bach stormed onto the stage and took the audiance by the balls. After seeing him on
Super Group
and listening to his voice fall flat, I was really worried that his voice wasn't going to be up to par. Boy, did he prove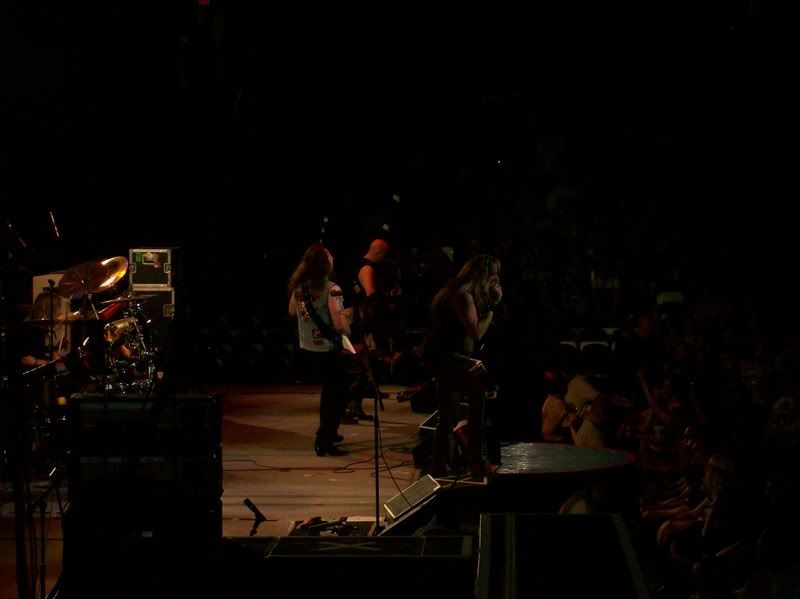 me wrong. His voice floored me. He sounded like he did back in the Skid Row days. He hit all the high notes and didn't even seem to struggle. His energy was sky high, and he reminded everyone that he is one of the greatest rock singers ever. Like my friend Charlene said after he belted out
I Remember You
, "He has the voice of an angel." He did a nice mixture of solo tunes and Skid Row tunes, and everyone went crazy for him. From the moment he stepped out on stage until the time he walked off, he made me feel like I was a teenager again. His performance was the one I was really excited to see, and he didn't disappoint.
I wish I could say the same about Dokken...or should I say Don Dokken.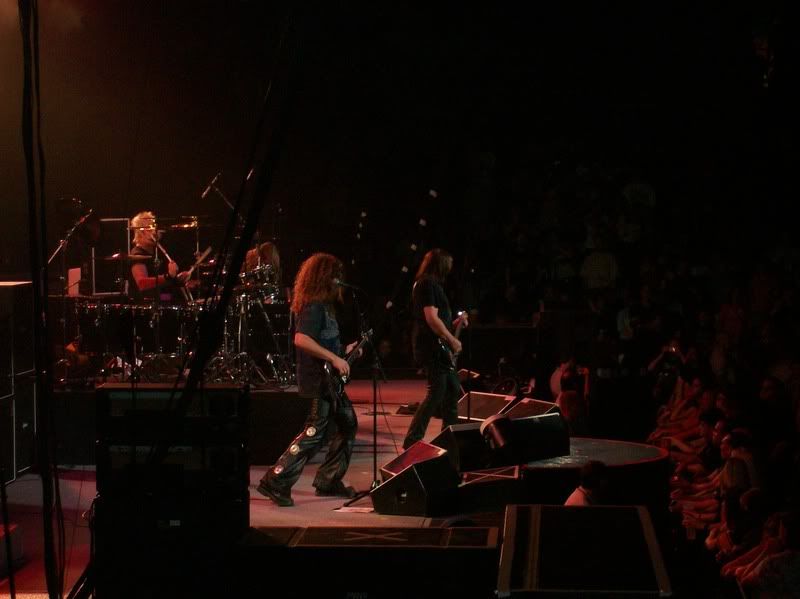 Please don't promote that Dokken will be performing when Don Dokken is the only original member in the band. I suppose I should stay more up to date on my band gossip, and then maybe I would have known that George Lynch, Jeff Pilson, and Mick Brown (or if it was Mick Brown, it sure as hell didn't look like him) weren't going to be in attendance. So the show started out disappointing because I was expecting the original line up and didn't get them. Unfortunately, it didn't get much better after that. Don Dokken was just a big lug on stage. He walked around slowly and totally brought the energy level down. I understand that he's much older now, but he should still be able to keep the crowd going. It probably didn't help that a majority of the crowd didn't recognize a lot the Dokken songs he performed. His voice sounded good, but he didn't hit any of the high notes; he left that responsibility to the bass guitarist and drummer.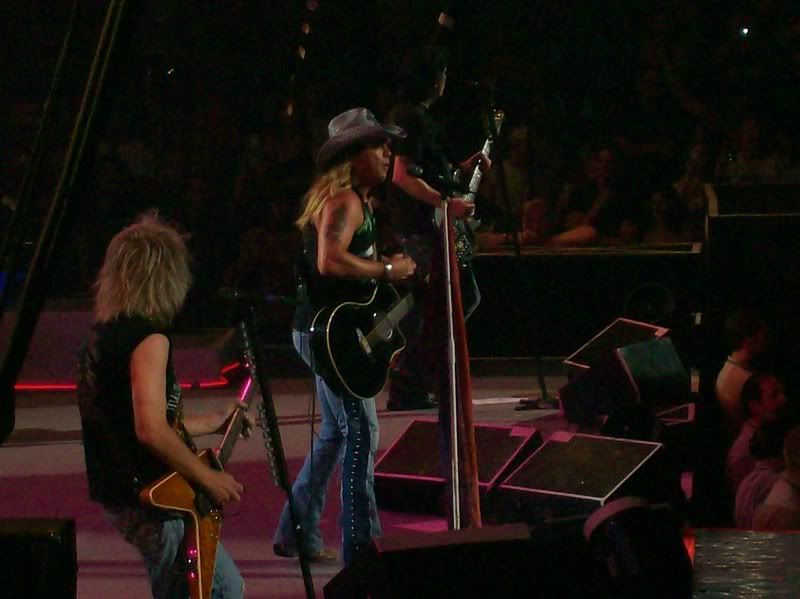 And finally there was Poison. They never disappoint. As much of a douchebag as Bret Michaels is these days, I cannot, and never will, deny the fact that he is an amazing entertainer. He was running all over the place and getting the crowd pumped. They played all their great hits from
Cry Tough
to
Ride the Wind
, and they sounded fantastic.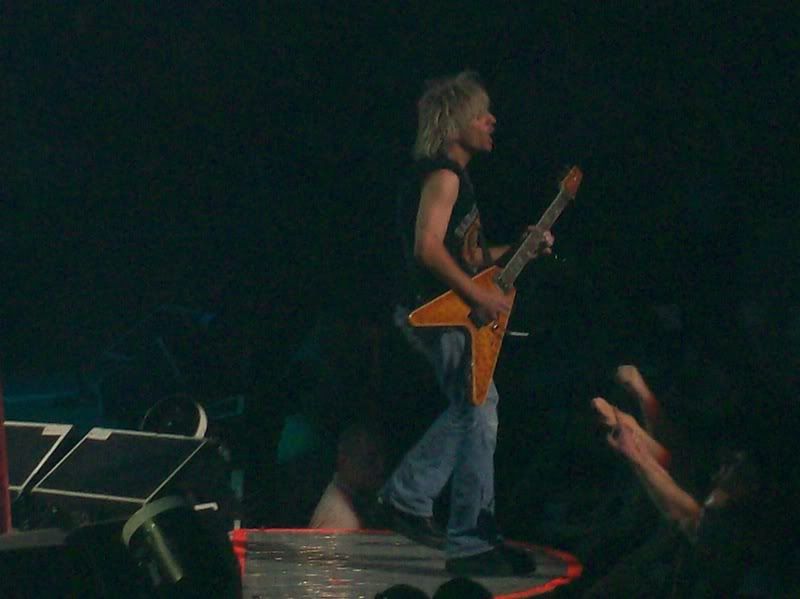 A couple of songs in, they let CC have the stage to do his guitar solo. Can I tell you how much I miss guitar solos? Damn...someone seriously needs to bring those back. CC did a damn fine job. Although I never thought of him as one of the greatest guitarists from that era, he certainly doesn't suck, and he proved that last night. This has nothing to do with guitar solos, but...CC had a mirror on the side of the stage, and in be
tween songs, he would run back and check out and fix his hair. It was pretty funny.
The newly exonerated Rikki Rockett had his own solo during the show. He had a moving drum kit a la Tommy Lee. It raised him up and then back down and then out towards the front of the stage. Then he got off his kit, and started banging away on some bongo like drums (sorry I don't know the technical term for these) that were set up on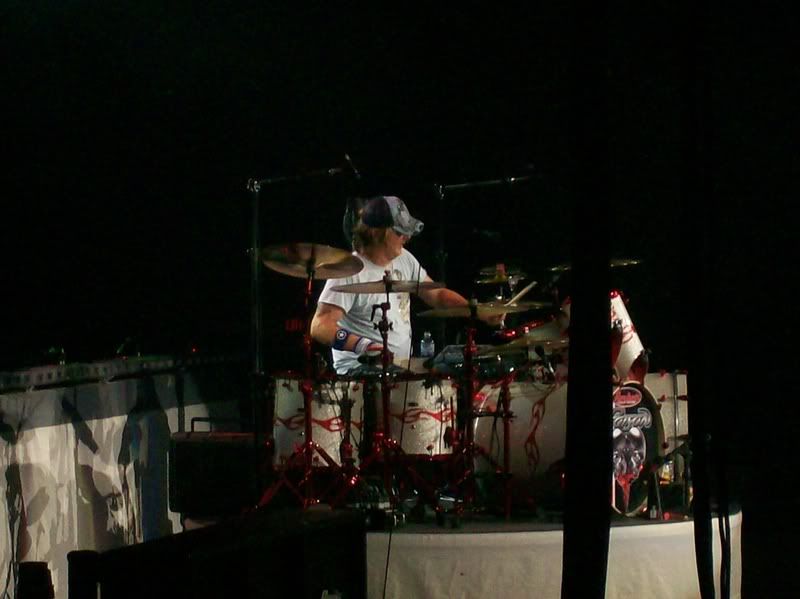 the front of the stage. It was pretty entertaining and a nice change of pace from the normal drum solo.
One of the highlights of the show was when some random fan actually made it up on stage. He ran up there and no one knew it. He just danced around on stage for about 15 seconds until one of the roadies ran after to him from one side, and Big John ran after him from the other side. Bret told the boys to take it easy on him because he was just trying to party. Who knows if they listened.
At the end of the show, Bret brought out three Ohio State football players. The only one I remember is AJ Hawk. Now, this may not be a big deal for you guys, but here in Columbus, OH...it's a HUGE deal. OSU football rules this city. The crowd went nuts and Rikki came back out wearing an OSU jersey. Although this wasn't exciting for me at all because I hate sports, the crowed went crazy.
The tour as a whole was a freaking blast. My friend and I danced our asses off and sang every word to every song like our lives depended on it (I recorded I Remember You, but all you can hear is us singing...not very well either). I'll always see Poison when they come to town because they always put on such a great show.

Editor's Note:
Here is the other highlight of my evening. This drunk idiot was sitting in front of us and dancing with his shirt off. Of course everyone around us kept egging him on, so he kept dancing and flexing his muscles. It was freaking hysterical. Not so hysterical was when this guy started throwing the "Hail Hitler" out with his arm. Not cool, so not cool.