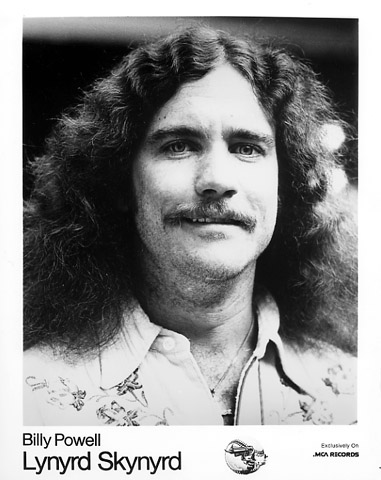 Good news travel fast. Bad news travels even faster. I just found out about the death of
Lynyrd
Skynyrd
keyboardist via text message. He was only 56.
Powell was the only keyboardist
Skynyrd
ever had and has been a member since 1973. He lived through the infamous plane crash and is credited for the intro to
Freebird

.
It's a real tragedy for the band, their fans, and for the music industry.
Lynyrd
Skynyrd
is one of the most legendary, influential bands in rock. They are certainly one of the pioneers of southern rock, no doubt about it. To lose one of the last, original members is devastating.
The question is now: What becomes of
Lynyrd
Skynyrd
? According to an agreement made shortly after the 1977 plane crash,
Skynyrd
can only continue to play if they have two original members from the
pre
-plane crash line up. That leaves Gary
Rossington
as the only original member of
Lynyrd
Skynrd
, and may mark the end of
Lynyrd
Skynyrd
as we know it.
Out of respect for the band and everything it stands for, I think letting go of
Skynyrd
now is a good thing. Would I like for the band to continue on? Absolutely. Is it really worth it now that there's only one original member? Probably not. And let's not forget that bass player
Ean
Evans is in failing health as well, so the future of
Skynyrd
continuing on without Powell is really not looking so great (even if it were an option).
Powell's death comes as a shock to everyone, but it really comes as a shock to me since I was just on the
Lynyrd
Skynyrd
Simple Man cruise with him a couple of weeks ago. Granted, it's not like I was hanging out with the guy or anything, but he was there playing music and making his legions of fans happy on the high seas. I met him a few years ago when
Skynyrd
played here in Columbus, and I'm lucky to have had the opportunity to be on the
Skynyrd
cruise and experience the band in that way for two years in a row.
Billy Powell was an amazing musician. His talents and contributions will not be forgotten.
EDITOR'S NOTE: Maybe someone out there can school me on some Lynyrd Skynyrd history. I knew there was some sort of agreement made about Lynyrd Skynyrd carrying on with a certain number of original members. Was it the "Rule of 3" and not the "Rule of 2"? Damn Wikipedia. I should have known better than to believe that as actual fact. My fiance says there has to be 3 original members, and I've seen a few other fans state the same thing on various internet sites.
If it is the rule of 2, can Skynyrd continue since Ricky Medlocke was technically an original member in 1970? I don't think Artimus Pyle counts since he won't have anything to do with the band.
Somebody straighten my ass out please. I hate not having correct info. I truly do try to research my facts before I post anything; this time it totally backfired on me. My apologies.